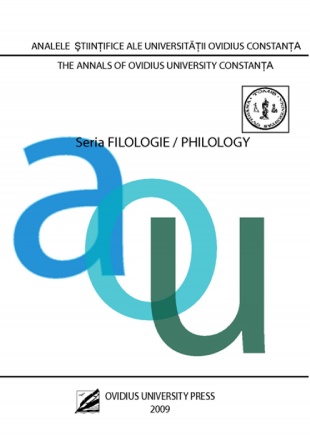 The Annals of Ovidius University Constanţa, Romania – the Philology Series is a humanities reference periodical, focusing on literatures and cultures, linguistics, the history of language, philosophy. Since 1990, the Annals have had an uninterrupted annual publication.

The Annals have a wide distribution in over 30 universities in Europe and the United States of America.
In 2011, The Annals of Ovidius University – the Philology Series were graded B by the National Council of Scientific Research (Consiliul Naţional al Cercetării Ştiinţifice - CNCS).

The articles proposed for publication should be submitted in electronic format to the managing editor, Associate Professor Alina Buzatu, to the email address alina.p.buzatu@gmail.com by May 1th, 2017 for the issue 1/2017.
The submitted articles should be in English or French, with abstracts and key words in English.

The Annals of Ovidius University – the Philology Series are listed in

• CEEOL (Central and Eastern European Online Library)

• DOAJ (Directory of Open Access Journals)

• IndexCopernicus Journals Master List

• Ulrichsweb™

• Scipio. Scientific Publishing and Information online

and registered in

• ZDB (Zeitschriftendatenbank)

• RuG Links

• La Criée : périodiques en ligne

For guidance regarding the editing of submissions, please refer to the section entitled For authors.